By Nick Flaherty
www.flaherty.co.uk
The Raspberry Pi 4 has gone on sale, offering a range of memory options.
The $35 board has a 1.5GHz quad-core 64-bit ARM Cortex-A72 CPU from Broadcom, the BCM2711, providing three times the performance of the previous version, with 1GB, 2GB, or 4GB of LPDDR4 SDRAM. There is full-throughput Gigabit Ethernet with dual-band 802.11ac wireless networking and Bluetooth 5.0 as well as two USB 3.0 and two USB 2.0 ports.
There is dual monitor support at resolutions up to 4K with VideoCore VI graphics, supporting OpenGL ES 3.x, 4Kp60 hardware decode of HEVC video and complete compatibility with earlier Raspberry Pi products.
The 1GB costs $35, with the 2GB at $45 and 4GB for $55. This is the first time that the raspberry Pi Foundation has offered different memory option.

The form factor has been updated with USB-C for the power connector that supports an extra 500mA of current, ensuring a full 1.2A for downstream USB devices, even under heavy CPU load.

To accommodate dual display output within the existing board footprint, the type-A (full-size) HDMI connector has been replaced with a pair of type-D (micro) HDMI connectors. The Gigabit Ethernet magjack has moved to the top right of the board, from the bottom right, greatly simplifying PCB routing. The 4-pin Power-over-Ethernet (PoE) connector remains in the same location, so Raspberry Pi 4 remains compatible with the PoE HAT.
The Ethernet controller on the main SoC is connected to an external Broadcom PHY over a dedicated RGMII link, providing full throughput. USB is provided via an external VLI controller, connected over a single PCI Express Gen 2 lane, and providing a total of 4Gbps of bandwidth, shared between the four ports.
All three connectors on the right-hand side of the board overhang the edge by an additional millimetre, with the aim of simplifying case design. In all other respects, the connector and mounting hole layout remains the same, ensuring compatibility with existing HATs and other accessories.
The board has a radically overhauled operating system, based on the forthcoming
Debian 10 Buster
release. This brings numerous behind-the-scenes technical improvements, along with an extensively modernised user interface, and updated applications including the Chromium 74 web browser.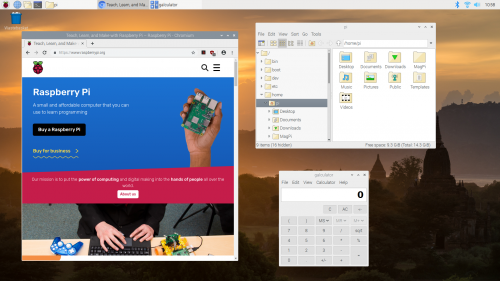 One notable step forward is that for Raspberry Pi 4 the legacy graphics driver stack used on previous models has been retired. Instead, the
Mesa
"V3D" driver developed by Eric Anholt at Broadcom over the last five years provides OpenGL-accelerated web browsing and desktop composition, and the ability to run 3D applications in a window under X. It also eliminates roughly half of the lines of closed-source code in the platform.
Connector and form-factor changes bring with them a requirement for new accessories.
Kinneir Dufort
and manufacturers
T-Zero
have developed an all-new two-part
case
, priced at $5.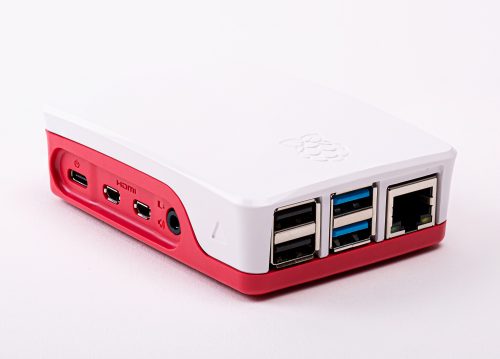 Good, low-cost USB-C power supplies (and USB-C cables) are surprisingly hard to find, so
Ktec
has developed a suitable 5V/3A
power supply
; this is priced at $8, and is available in UK (type G), European (type C), North American (type A) and Australian (type I) plug formats.