By Nick Flaherty
www.flaherty.co.uk
Advantech has launched a palm-sized embedded controller measuring 170 x 117 x 52.6mm based on the latest Intel Atom E3900 processor technology to give a 30% CPU performance enhancement and a 45% graphic performance boost. It is also certified for use with the AWS Greengrass and Microsoft Azure IoT Edge cloud services for the Internet of Things.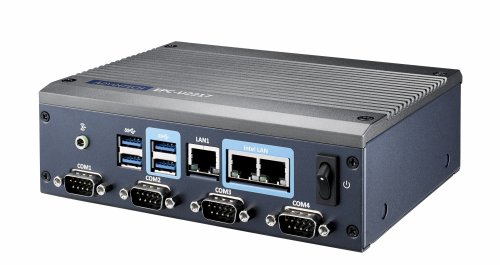 The
EPC-U2117
is designed with dual display output, multiple I/O, and 12 to 24V DC power inputs, which target smart vending machines, digital signage, smart kiosk, and more.
It runs Microsoft Windows 10 IoT Enterprise and Linux OS as well as Advantech's WISE-PaaS DeviceOn intelligent software integrated for remote system monitoring and management that also BIOS/FW OTA updates to upgrade the system and devices with latest firmware to keep everything running at peak performance.

THe unit can be mouted as a desktop PC, or via wall, or DIN-Rail mount. The top extruded aluminium passive heatsink thermal solution is designed for -20 ~60 °C wide temperature operation and there are integrates two expansion slots including one M.2 for Wi-Fi or GPU module, and one full size Mini PCIe for 3G/LTE connection or mSATA storage.
The
EPC-U2117
supports multiple storage, which includes onboard eMMC up to 128GB, mSATA, and 2.5" SSD/HDD for flexible storage options. Customers can install OS and key data in eMMC for best security protection and reliability. If customer request big storage capacity and high data transfer, they can use mSATA or SATA SSD for better storage performance.